Over the years, acoustics have become an increasingly important part of our environment, and we are affected daily by traffic noise, electronic noise, open office landscapes, etcetera. Today's acoustic requirements are mainly focused on disturbing noise between rooms in different environments where people stay, for example apartments, offices, schools and hotels.
Today, Sweden is in the top tier in the world when it comes to the most developed acoustic and environmental requirements, and we should be proud of that – regardless of whether it concerns acoustics or a sustainable future environment. We live in a pioneering country regarding acoustics, and it coincides with the search for reduced carbon dioxide impact in buildings where concrete is not the best option. The requirements for effective solutions are great and require quick results. Here, wood as a material has played a large role in the very short term, and the material historically fits well with Swedish construction, but it can be even more interesting on the international market that has not used wood in its building tradition.
Replacing concrete with wood places a number of new demands on solutions, and for their work you need accurate data from tests carried out in a laboratory environment and from field measurements in parallel with approved environmental documentation. This gives a holistic perspective. The lack of responsibility around comprehensive solutions has opened up for full-scale experiments where the client foots the bill and is responsible for the result.
Just over 20 years ago, Aprobo AB developed a construction called Decibel SoundSeal, which consists of permanently integrating one of the company's Decibel acoustic mats into the joist construction. Apart from the fact that the acoustic result is promised to meet all acoustic requirements within BBR, there is well-documented environmental information on all Decibel products with approval from a large number of assessing bodies and companies. A major advantage of the construction should also be that the choice of floor material and application method does not play any role acoustically. This procedure means great flexibility for the property owner, who in the future can adapt the tenant to their property with optional floor materials and maintained properties for the acoustic requirements.
Read more about Decibel Concept here.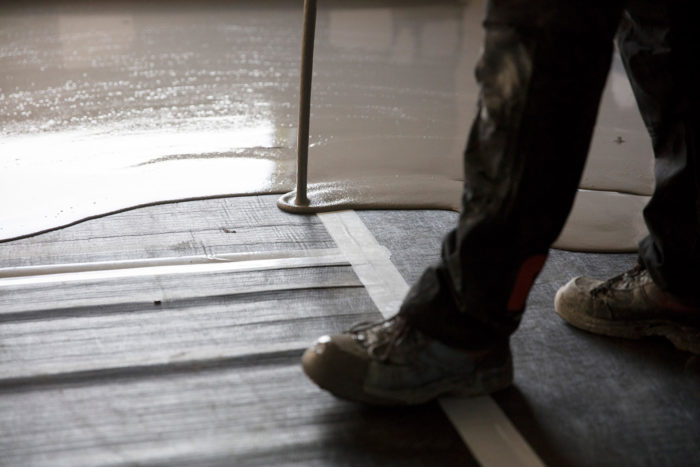 However, Aprobo AB wants to go further than that and we claim that you do not sell an acoustic product in the first place but complete construction solutions, which merge into a whole when you coordinate their free consultation and collaborations on a broad front with various producers in flooring, floor leveling and concrete.
In acoustics, "thinking errors" occur when trying to meet the sound requirements. An example of this could be coating a concrete structure with extra concrete. The measure does not really have that great an impact on the acoustics, but in combination with, for example, a floating parquet, the requirements can be reached later. Aprobo wonders what happens if you don't choose a floating parquet? In these cases, money has been spent unnecessarily and, in addition, a building height has been created, which in turn leads to large additional costs. Aprobo's view is that every millimeter of unnecessary building height must be multiplied by the property's area to show how much cost savings are possible. Of course, the construction must handle the strength, but Aprobo's representatives believe that one should not oversize the concrete for the sake of acoustics, and here their Decibel SoundSeal construction can be a much more effective acoustic and environmental alternative.
Read more about Decibel SoundSeal here.
The need for early acoustic planning in consultation with all involved parties at an early stage is crucial for a successful result on all levels, Aprobo AB believes. The company's thoughts and visions have now reached far beyond the borders of Scandinavia to a market where the corresponding demands are now growing ever stronger. This procedure is in line with what the consulting company WSP mentioned in a statement in BBR's update in 2007 that "noise is one of the elements that can cause problems for the designer, the architect and above all the resident"
– WSP pointed out that the performance of the sound insulation and how the responsibility for sound issues is distributed between the project's parties contributes to the fact that construction costs can be reduced and the quality of finished buildings can be increased.
Do you want to know more? Contact us!