Sound insulation and ergonomics are important factors to consider when choosing floors in various construction projects. But with the new addition of Decibel LVT, a high-performance acoustic carpet, these challenges are solved. Let's take a closer look at this product and its benefits for the construction industry.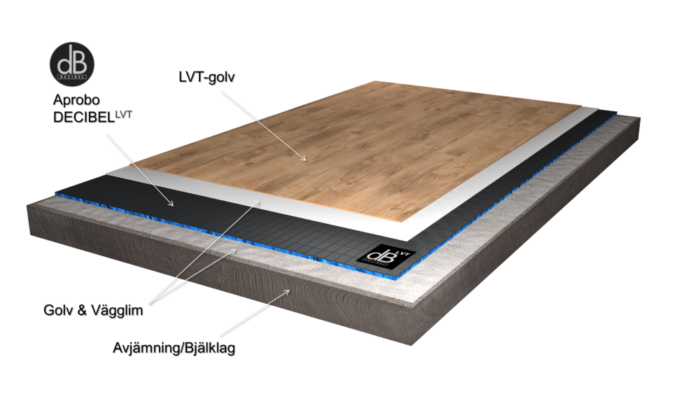 As a contractor or builder, you want high-quality materials for your projects. When it comes to flooring, LVT flooring is popular due to its durability, ease of installation and versatility. But acoustics can be a challenge with LVT floors, especially in noisy environments or in apartment buildings. Now there is Decibel LVT, a high-performance acoustic carpet specially developed to be laid under LVT floors.
Decibel LVT is a high-performance acoustic carpet that reduces sound transmission between floors and floors, making it possible to meet high sound requirements without sacrificing the appearance or durability of your floor. Its ergonomic design also reduces the impact on your feet and joints, making it more comfortable to stand and walk on the floor for longer periods of time.
Decibel LVT is easy to install, we recommend installing the carpet with double gluing, but it is also possible to lay it loose depending on your specific needs and requirements. This makes it a product that is suitable for a variety of construction projects with different conditions.
In conclusion, Decibel LVT is the ultimate acoustic carpet for the construction industry. With its high-quality materials, ergonomic design and easy installation, it is an excellent choice for all types of floors.
Decibel LVT is part of the product family we call Decibel Concept. Decibel Concept contains interesting solutions to most acoustic problems that can be associated with floor and joist constructions. Watch our video describing the Decibel Concept in its entirety!
Does this sound interesting? Contact us!
---